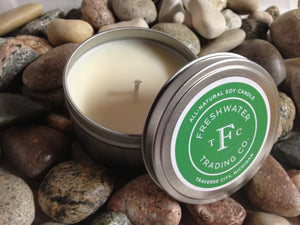 Freshwater Trading Company
Fir Needle Soy Candle - 8 Oz. Tin
Citrusy lime and fragrant fir combine for a fresh take on a walk along a wooded shoreline.
Why choose soy wax candles? Soy wax burns cleaner, lasts longer and is a renewable resource. Why scent with plant oils instead of fragrance oils? Essential oils are non-toxic, release scent gradually in soy wax, and have aromatherapy properties that man-made fragrances don't possess.
Ingredients: 100% soy wax, essential oils and all-natural cotton wick.
---
More from this collection