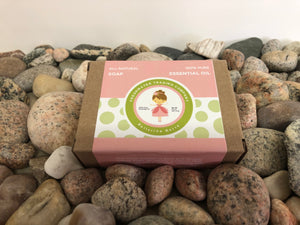 Freshwater Trading Company
Ballerina Barre Handcrafted Soap
Our Ballerina Barre is pretty in pink and features a pleasing mix of sweet orange and lavender essential oil. One of our favorite aroma blends, it's tutu good not to try.
Why choose handmade Soap? Because it's better for your skin! Many commercial soap companies extract the naturally occurring glycerin during the soap making process. With all of its emollient and hydrating properties, we leave the glycerin where it belongs, in the soap. The end result is a more stable, long-lasting bar that leaves skin clean and moisturized.
Ingredients: Saponified oils of sustainable palm, coconut, olive and castor, ground coffee and orange essential oil.
---
More from this collection