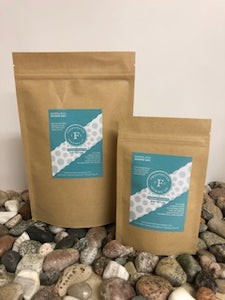 Freshwater Trading Company
Spearmint Eucalyptus Bath Salt - 12 Oz.
Rejuvenate sore muscles and detoxify the skin, our refreshing spearmint eucalyptus bath salt leaves skin feeling cleansed and revitalized.
Why choose bath salts? For centuries, people have been bathing in mineral rich Dead Sea salts to gently exfoliate and detoxify the skin, help ease sore muscles and leave skin feeling soft, healthy and refreshed.
Ingredients: Solar evaporated Dead Sea salt and 100% pure essential oils.
---
More from this collection